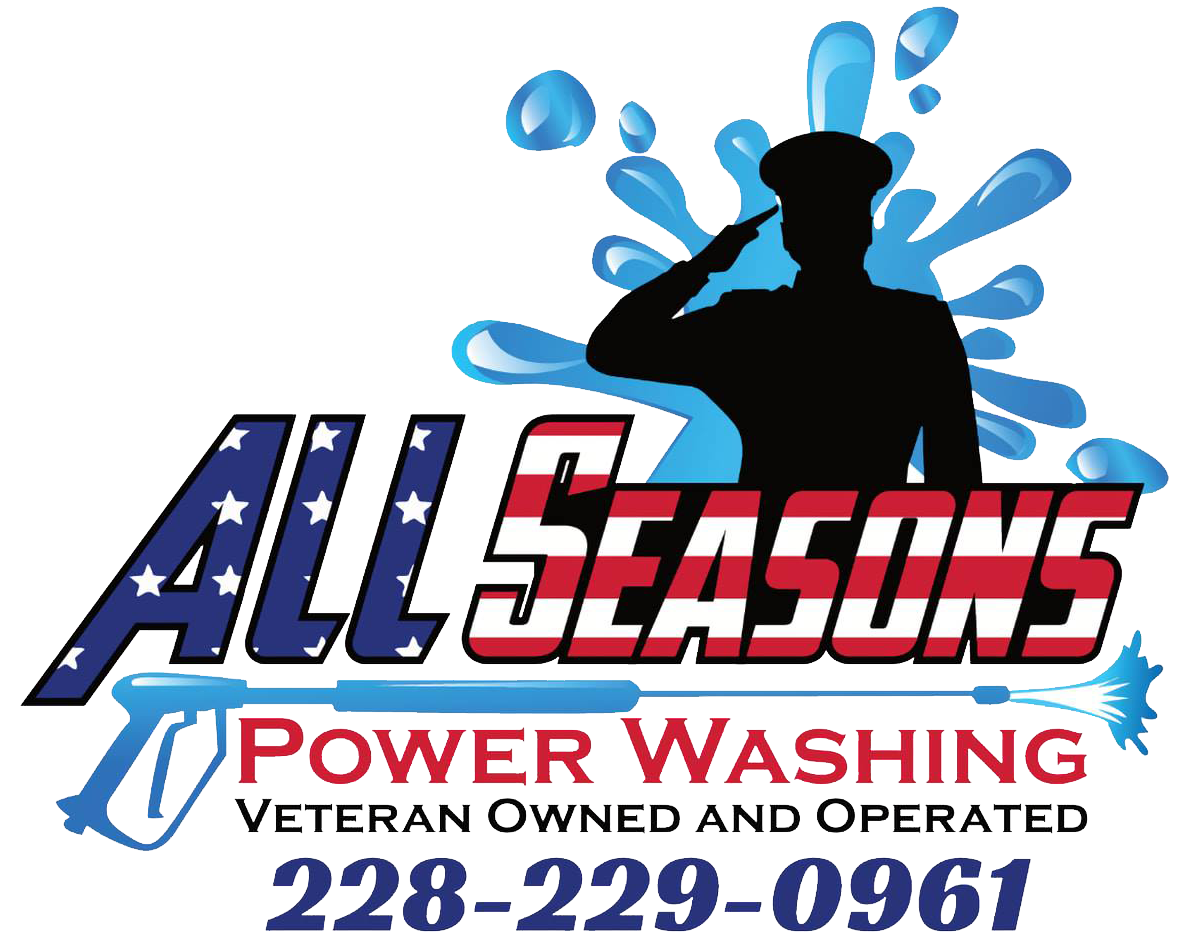 Cleaning the Coast One House at a Time!
All Seasons Power Washing LLC., owned and operated for 20 years by a Navy Seabee, offers five-star, professional power washing and low-pressure washing services to Mississippi homes and businesses in Gulfport, D'iberville, Biloxi, and the surrounding areas.
What People are Saying About All Seasons Power Washing LLC
Chad did an excellent job! I was very pleased with his professionalism and ability to get the job done to perfection! He had the proper equipment and I will definitely use him again! I made a new friend
- Debbie G
Chad was very professional. He was on time and my house looks amazing! My driveway and side wall looks brand new! Amazing work!
- Tondra M
Chad was quick to come to my home and give me an estimate. He took extra care to prepare my home for cleaning prior to starting the cleaning process. His work is great and his price is reasonable and competitive! Thank you for a job well done and for caring for my home as you would your own! I will use Chad again!
- Judy D
Excellent work and fantastic customer service! Our home had not been power washed in many years and still had a lot of debris stuck to it since Hurricane Zeta two and a half months ago. Between the algae and storm debris, the house was a mess. We are so happy we found Chad and hired him. His prices are very competitive and his communication is great. His attention to detail and work is second to none. Our house looks like it has been freshly painted! The brick patio, walkways and our very long driveway look fantastic too. The gutters and windows are sparkling clean. Thank you Chad for doing such a wonderful job!! I highly recommend All Seasons Power Washing and I love that it is a veteran owned business as well!
- Dee T
Owner is a pleasure to deal with and the quality of work is excellent! Our building looks brand new after being power washed--1st time in 5 years. Fair pricing and quality work says it all!
- Lynn S
Chad did a great job washing our home. Highly recommend you allow him to pressure wash your home.
- Den H
"Chad came out last minute before 4th of July and got my house looking better than it has ever looked before!! He is extremely professional and does an excellent job. It makes me so happy to see a clean house with no dirt, spider webs etc all over the eaves and porches! Looks like brand new!"
-Leslie Anderson Suit
"Punctual and professional. Chad clearly takes pride in his work and it shows. My home literally looks brand new! Thank you again !"
-Jay Minatee
"Absolutely amazing! The professionalism of the owner can't be beat and my condo looks fabulous. Highly recommended for his honesty and attention to detail in his work. We just set up a maintenance program and I'll see him in 6 months. Call them, you won't be disappointed."
-Kay Proth
"I had my residential service today!!! Very pleased with the quality of the work, the price, great communication and definitely the flexibility with scheduling! I can smell the clean from inside. Give All Seasons power washing a call, you will be happy that you did! Veteran owned and operated, was a huge plus for me!"
-Julie Lott
"Chad did an exceptional job on our roof! We are very happy with the results. He is very professional and responsive to texts and questions. We will definitely be using him for other cleaning around our house."
-Lani V
"Chad did a great job washing the outside of our house. He was careful (such as taping over all outside electrical outlets) and very thorough with the cleaning. The house looked great when he was finished, and we felt his pricing was fair. We would definitely recommend this business, and we will call him again annually. "
-Liz Kaiser
"Chad's work was superior. He did exactly what he said he would do and his professionalism was beyond expectations. A true professional!! "
-Linda Turnage
"Absolutely amazing all the way around. Super fast response and goes way above and beyond to keep you and your property safe. Can't wait to have him out again! "
-Sidney Lizana
"Amazing job and will definitely contact again for any future pressure washing needs. He didn't leave until he was completely satisfied and that we were too. Very happy with the services performed."
-Susan Clifton Cox
"The services were exceptional and professional! Our house, driveway, and patio look amazing and he was able to come out right before the photos were taken of our house to list it. The price was great for such amazing service!"
-Andrea Christiansen Grisham
"Chad exceeded my expectations with his attention to detail and thorough cleaning. My home looks brand new! Scheduling the cleaning was easy and the end result is amazing! We had our driveway, brick, stucco, and deck washed and all surfaces were perfect!"
-Alexandria Goins Borden
"This company is awesome. They power washed the business where I work a d what a great job"
-Renee Ladner Wingate
"All Seasons Power Washing cleaned my house and vehicles. My house looks brand new again and the owner Chad Kissinger is the most honest and caring person that I have ever met. Trusted and dependable! Hands down this is a 5 STAR company & 5 star work."
-Jeremy Hunt
"My house looks brand new. Chad did an amazing job not only on the siding, but the windows, and porch as well."
-Steven Lott
Chad did excellent work and exceeded all expectations. He cleaned about 5,000 square feet of sidewalks for our church. No way to post before and after pictures in this review; however, anyone is welcome to ride by CROSSWAY CHURCH, located at 2600 22nd Ave in Gulfport and see Chad's work.
- Bob J
Very pleased with appearance of house and driveway after cleaning. Clearly, Mr. Kissinger takes pride in his work and in leaving the customer with an excellent impression of his business. Definitely 5 stars!
- Cheryl B